The Place for all things Disc Golf in Flagstaff, Arizona.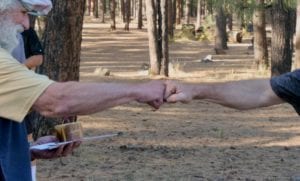 Check out the minutes from our latest Flagstaff Disc Golf Club Board Meeting held this week.
We're taking on a whole new world with this new board and we're determined to get disc golf back on and safely so. We absolutely appreciate your patience.
Read More »
The Flagstaff Disc Golf Club is 100% Volunteer Driven. We do our best to manage the courses, forest, events, membership and relationships with our community. Please don't hesitate to reach out to us for any questions, comments or suggestions you have. Our most awesome Board Members will get back to you shortly.